VEHICLE WRAPS & GRAPHICS • BANNERS • SIGNS
Let the professionals at Eby Graphics help you with every aspect of the vehicle wrap, sign, and banner process from concept to installation.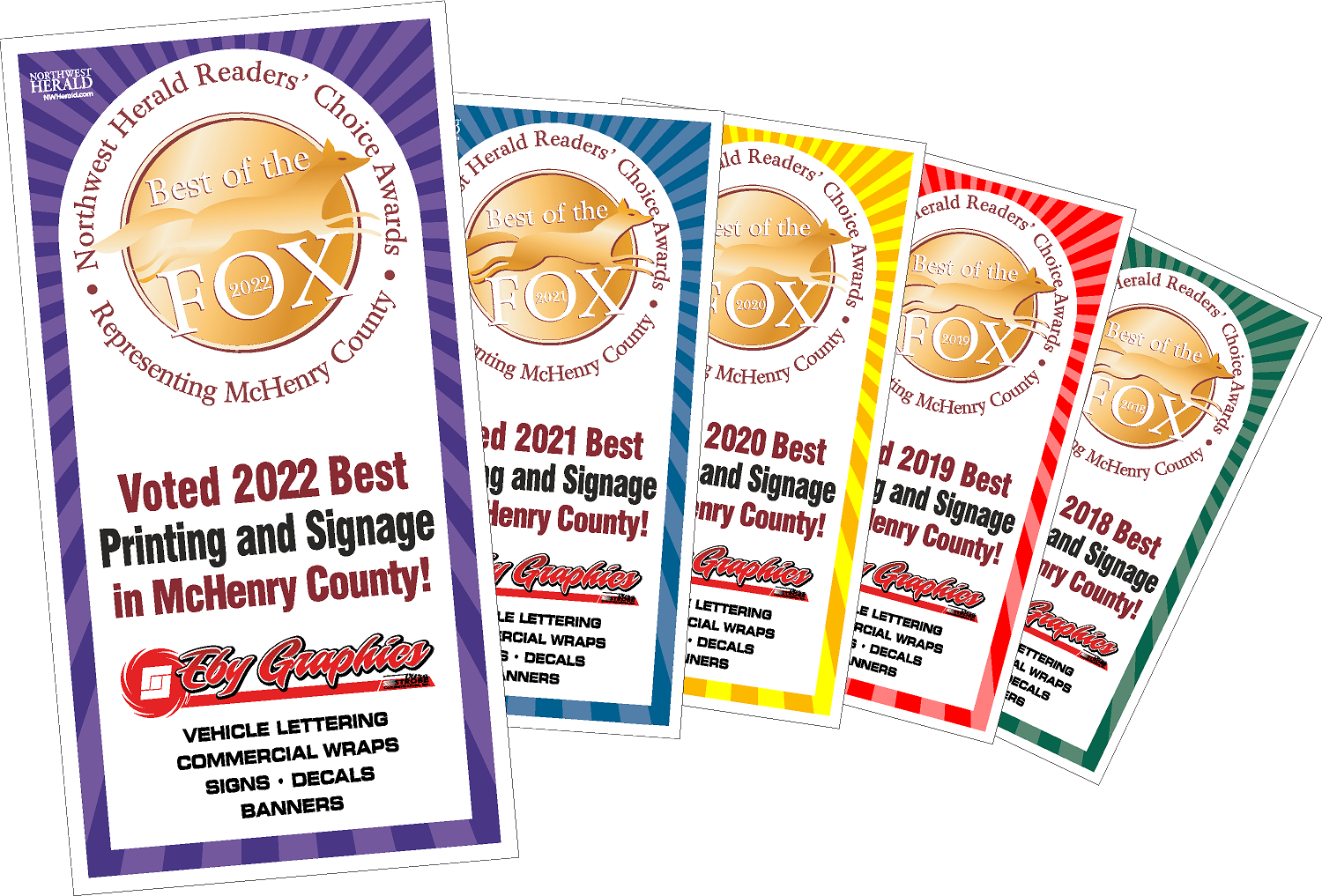 Looking for the best McHenry County printing, signage, and vehicle wrap company?
Whether you need to identify your police, fire, EMT, or municipal vehicles – or you want to turn your company vehicles into rolling advertisements – the experts at Eby Graphics, Inc. are standing by to design, cut and install durable, high-quality graphics and wraps that turn heads.
With a world-class team of designers and application professionals and over 30 years experience, you can be sure of the very best vehicle graphics, wraps, signs, and banners in Northern Illinois and beyone.
Call us today at 888-885-1046 for your free consultation.
Who We Serve and What We Do
Here's what our clients say
Super impressed with Matt. I needed lettering printed and installed for a few exterior doors on a doctor's office I painted. His response time from my initial call to install was extremely quick and on point.
Great shop for all your sign, decal, banner or logo needs. Owner takes the time to make sure you get what you want. You can tell everyone takes pride in there work.
Awesome work and quality. Thanks. !!! 😀✌️☮️
Peerless Roofing Inc.
2022-07-13
We were very pleased with the attention of detail and service they provided. Excellent quality and timelines.
Highly recommend. Matt and his team were creative, professional and competitive, and completed the graphic application in a quality manner and as scheduled.
Outstanding customer service, quality materials, and courteous, professional staff. My vehicle graphics job wasn't super complicated or large. But the treatment and attention to detail I received from Matt and his team was at the same level I would expect for a huge corporate job. Highly recommended !!!!
Just an amazing experience, Melissa and another gentleman helped me with the graphics and the attention to detail is absolutely amazing. It's people like you is why I was glad to fight for your freedoms I will definitely be back thank you again for pimping my ride.....
Great customer service 👍
The best in the business. From police and fire service vehicle lettering to banners marketing signage busy places are busy for a reason.
Matt and the crew at Eby Graphics have wrapped and lettered up all of my work vehicles, made signs and banners for me, and completely hit it out of the park with my latest project: table markers for a friends wedding. Their service is awesome and the pricing is great. I'm a customer for life
Matthew Eby, you and your company are hereby recognized as a Top Gun McHenry County family owned custom printing and signage shop by the County Advisory Board.
Top Guns are recognized as someone whose skills and services go above and beyond the call of duty to make their local communities and counties a better place to call home.
Matthew is the owner of Eby Graphics, a full-service family owned custom printing and signage company located in McHenry County…[More]
Call us today for your free consultation.